Transforming Outdoor Living Spaces
Services
Wind River Stone Scapes, Inc is a niche landscaping company that provides high grade, customized solutions to customers and around Lander, Cody, Jackson, Rock Springs and Riverton. With years of experience behind us, we have proved our mettle in this space.
We focus on using top notch materials and new as well as time tested landscaping techniques in installing stunning landscapes that add beauty and value to your property. Here is a glimpse of the different services we offer to customers across the region including in and around Green River, Idaho Falls, Ammon, Rexburg and Preston:
Building Design
When you are getting a new build, you need to be sure that the entire structure is stable, planned perfectly, and has all the correct features as per your requirement. We offer custom building design solutions to our clients and can create unique structures. Our company understands that every client will have needs. Its why we take the time and effort to have detailed discussions with you about your preferences and ideas. You can be sure that our building design will align with your needs and your budget. We use high-quality materials and ensure that the structure will be durable and functional so that you get an excellent return on investment. Read More About Building Design >>
Renovation/Remodeling
We are a company with decades of experience in this industry and handle all types of renovation and building remodeling services. As a company that provides comprehensive solutions, we can handle all kinds of renovations, bathroom, and kitchen remodeling projects. We can install wooden floors, exterior doors, and windows as well as interior features. If you need stone or tile flooring for countertop replacement, we can handle that job as well. Also, we can uplift the look and condition of an old fireplace and upgrade its appearance using natural stone. In addition to these services, we offer start-to-end painting and staining solutions. Read More About Renovation/Remodeling >>
Interlocking Concrete Pavers
When it comes to flooring for outdoor areas, it is good to opt for paver stones of different types. We handle all types of interlocking concrete paver design and installation solutions. In addition to permeable interlocking concrete pavements, we also handle brick paving, natural stone paving, interlocking concrete paving, and porcelain paver installation. Our team of hardscape specialists will design and plan the entire area so that all your paved surfaces look fabulous and last for very long. Paver stones are an ideal option for all outdoor spaces as they are resilient, easy to maintain, and incredibly durable. We are here to help you with design plans, ideas, and complete site prep and installation solutions. Read More About Interlocking Concrete Pavers >>
Outdoor Living/Kitchens
Creating the perfect outdoor spaces is a lot about choosing the right kind of features and structures. Depending on your specific preferences and available space on your property, we can help you with the design and build of outdoor living features. The different structures we can build include patios, decks, outdoor kitchens, and other outdoor structures. Installing these features is an excellent way to use the available area optimally; it increases your investment return on the property. We handle outdoor living design and installation projects to industry standards, ensuring that only the best quality materials are used in the project. Read More About Outdoor Living/Kitchens >>
Segmental Retaining Walls
There are times when certain parts of the property have sloping land or soil erosion issues. In either of these conditions, it is necessary to lend some stability to the ground. It is where segmental retaining walls come in. We offer high-grade retaining wall design and construction solutions to our commercial and residential clients. Over the years, we have handled many similar projects, which has given us the ability, expertise, and knowledge to tackle these jobs to industry standards. We use the most popular segmental retaining wall products available in the market today, which enhances the resilience, attractiveness, and durability of your retaining walls, providing you value for money in the long term. Read More About Segmental Retaining Walls >>
Sprinkler Systems
Installing sprinkler systems is one of the best ways to ensure that various areas of your landscaping get water at the specified intervals as per the set schedule. Today there is a variety of sprinkler system products on the market. We help you with all the information that you need about the different types of sprinkler systems available, helping you make a better decision about the products you want. Once you have determined which solutions work best for you, we will handle the sprinkler system installation to industry standards. Also, we provide comprehensive consultation services as part of irrigation system planning and designing. Read More About Sprinkler Systems >>
Barn Floors and Buck Fencing
Barn house flooring has to be properly constructed as poorly constructed barn floors can result in problems related to thrush from the trapped moisture. It can also cause problems because of ammonia gases. Buck fencing or deer fencing is a 3D fence – One section of this fence is made up of two, A-framed 'bucks'; these are spaced at a distance of 12 to 16 ft from each other. Rails are then attached to these standing A-frames to create a strong fence. Read More About Barn Floors & Buck Fencing >>
Chain Link Fencing
This is an ideal fence to keep your kids and pets in the yard, mark your property line, keep your intrusive neighbors out or keep stray animals off your land. Its durable, does not obstruct the view and can be constructed in various sizes. Read More About Chain Link Fencing >>
Custom Stone
We provide custom stone countertops, vanity tops, Floors and walls, fireplaces and a number of other features too. These could be made of limestone, granite or marble. Read More About Custom Stone >>
Driveways
These are very hardworking areas of a property and see a great deal of vehicular and foot traffic. We can install brick, stone or concrete pavers that will be able to withstand the elements and stay looking good for a number of years. Read More About Driveways >>
Fireplace and Fire Pits
These outdoor features add a distinct charm to your property. They can be made with natural stone or concrete clad with stone veneer or even with brick. Fire pit areas can be paved with different paving stones to create leisure zones on your property. Read More About Fireplaces & Fire Pits >>
Patios, Walkways and Flower Planters
Patios are very popular outdoor living features and these can be covered with paving stones to increase their longevity. We also construct walkways leading to different parts of the landscaped areas. We also build different types of flower planters with the right drainage system. Read More About Patios, Walkways & Flower Planters >>
Permeable Pavers
These are an eco-friendly outdoor paving solutions that help replenish groundwater levels. In this the paving stones are set on a later of gravel under which is a layer of compacted sand. Read More About Permeable Pavers >>
Water Features
We can install water features such as bird bath fountains, pools streams and waterfalls to create the ambience you want on your property. Read More About Water Features >>
For additional information about any of these services, simply call Wind River Stone Scapes, Inc. at our office number - 307-367-4793. You can also drop us a line via this email or this online form.
WRSS Flyer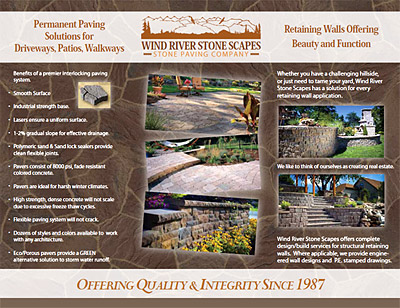 Click here to view/print our flyer!